Merryn Hull is a Sydney and Hunter Valley-based contemporary artist working across painting, installation, sculpture and the photographic. She is a second career artist, having formerly worked as an architect.  She graduated with a BFA (Hons) in 2011 and an MFA in 2014, both from the National Art School and has recently completed a PhD at the University of Sydney (Sydney College of the Arts).
Merryn's work engages the diverse ideas, philosophies and materials of sculpture to explore the idea of transformation. In demonstrating their transformative possibilities, her assemblage structures dislocate perceptions and provoke different ways of seeing and understanding the contemporary world. Imminence, understood as something that has not-yet but is about-to-happen, is a central concern in all her work.
The works Merryn exhibits often seem still to be under construction; a 'new' work will involve the reiteration of a previous one. Until it encounters a viewer, Merryn sees her work as existing in potential, in a state of anticipation and ambiguity. The viewer-artwork encounter captures a dynamic moment charged with the potential to release new insights and understandings. These artworks use unexpected assemblages of materials and forms to map the transformative potential of the viewing encounter onto the complexities and uncertainties of contemporary life.
Merryn has had a strong career in design-related fields being awarded a Royal Australian Institute of Architects Award for Design in her early career and more recently an Australian Postgraduate Award leading to her PhD.
As a professional artist, Merryn's commitment to the arts through studio-­led practice supported by academic research outcomes is unquestionable. As an artist her experience and calibre easily position her within the highest standards of Australian contemporary art practice … Merryn's practice works across disciplines and embodies diverse materials and methodologies to arrive at spectacularly inventive idiosyncratic outcomes that continue to extend the limits of contemporary creative culture.
Dr. Stephen Little
Head of Painting, National Art School
Cnr Forbes & Burton Streets
DARLINGHURST, NSW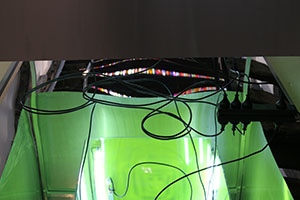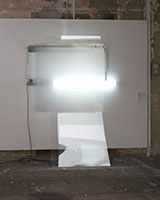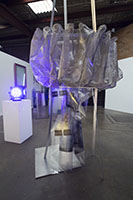 Merryn Hull © 2020